Q-Air understands the importance of compressed air to your business.
Q-Air is a compressed air company specialising in service, repairs and sales of compressed air products throughout Central Queensland.
Based in Gladstone for over 21 years, our newly developed state-of-the-art workshop facility is located in the heart of Gladstone's industrial precinct. Q-Air is confident we will meet and deliver your compressed air requirements.
Q-Air stocks an extensive range of new and second hand compressors from 5kW to 6000kW both in oil free and oil flooded with a pressure rating from 7.5bar to 15bar.
Q-Air is proud to be major distributor of KAESER Compressors offering the complete solution to all your compressed air requirements.
Q-Air offer a Pressure Safety Value (PSV) calibration service using advanced test gauges accurate to 0.05% with the capability of testing your PSVs up to 700bar. Onsite, Q-Air can remove, test, tag and certify your PSV or compile a total computerised maintenance schedule to suit your needs. It' s essential to ensure your PSVs are up to date and meet Work, Health and Safety (WHS&S) requirements.
Q-Air is committed to safety and is proud to achieve a WHS&S Management System accreditation. We strive for excellence in this area and show a strong commitment to continually improve and implement systems to assist customer support into the future.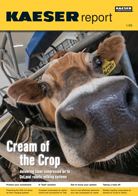 KAESER Report Newsletter
Receive access on all the latest product news and developments in compressed air system technology.
The KAESER Report serves as an excellent resource with helpful reference material in optimising your compressed air system.
Click to view KAESER Report