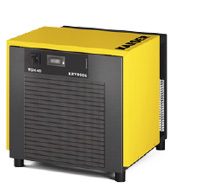 KRYOSEC REFRIGERATION DRYER
Flow rate 0.35 to 4.50 m³/min
Perfect for locations where space is at a premium, the KRYOSEC series is exceptionally reliable and ultra compact. Providing efficient performance, the KRYOSEC series efficiently separates accumulating condensation at all operating phases via the integrated separator.
With KAESER's extensive range of available models, Q-Air can provide the most suitable dryer to match any application.