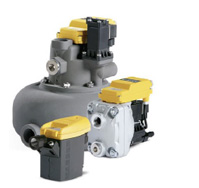 ECO-DRAIN SERIES
For compressor flow rates up to 1700 m³/min
Avoid costly downtime during the height of a production schedule by choosing a reliable electronic condensation drainage system to extend the life cycle of your investment. Essential to a compressed air system, the ECO-DRAIN guarantees safe, dependable condensate drainage without air or pressure loss.
Q-Air can protect your investment from moisture by offering an extensive range of models to meet the requirements to any application.