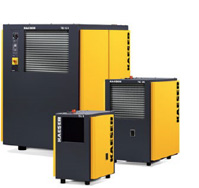 SECOTEC Refrigeration Dryers
Ensure your investment is receiving reliable compressed air drying with KAESER's SECOTEC series. Designed to efficiently remove moisture from compressed air, the SECOTEC series is the perfect choice for compressor stations.
Unlike other conventional refrigeration drying systems, KAESER's SECOTEC series are built to last a lifetime with its premium quality components guaranteeing a long and dependable service life.
With KAESER's extensive range of available models, Q-Air can provide the most suitable dryer to match any application.