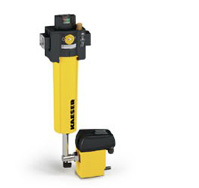 Filters and Centrifugal Separators
Flow rates 0.58 to 248 m³/min
Reduce service, maintenance and repair costs by choosing KAESER's new inline filters to guarantee efficient removal of water, oil and dust. Combining a modern deep pleated filter media to remove particles with a carbon fibre mat to trap oil vapours, together they deliver an exceptional filtration system with minimal pressure loss.
Q-Air offers an extensive range of KAESER filters for air compressors and compressed air drying systems to meet the needs of filtration requirements.