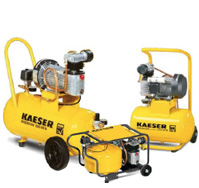 Premium Series - Workshop Compressors
Displacement 130 to 300 I/min
Exceed the requirements of a wide range of applications with the PREMIUM Series. Manufactured with the highest quality of compressor materials, the PREMIUM series ensures a long, efficient and reliable service life.
The perfect solution for small to medium business and competitively priced without compromising efficiency, reliability or durability.
Q-Air offers an extensive range of PREMIUM workshop compressors to meet any application.